Golf gloves are an excellent aid in promoting additional grip and comfort when using a golf club. Although they're not an essential piece of golf apparel, they're used by tons golfers due to what they can bring to your game. In this article, we've rounded up some of the best golf gloves around.
Golf gloves are optional, and lots of people play without one. However, if you think you could benefit from additional grip and support during your swing we'd highly recommend trying one out. They're inexpensive compared to other pieces of golf equipment but can have a huge impact on your game making them highly cost-effective.
The Best Golf Gloves
If you're looking to get your hands on a new golf glove, you need to make sure it's durable, breathable, adds grip as well as comfort to your swing. We've rounded up a list of golf gloves that we believe have all of the qualities we've just mentioned.
Here's a list of the 5 best golf gloves available to date.
Callaway Men's Golf Glove
First on our list we've got the Callaway men's glove made from premium synthetic leather. The glove has a four-way stretch across the knuckle of the hand. It's very comfortable and feels great as well as providing lots of added grip. It's a very lightweight glove but stretches quite impressively, we'd recommend opting for a size down to account for this.
This glove is a great choice if you need something for all weather, absorbing moisture well and as you can see from the perforations, it has plenty of ventilation for those hotter days.
FootJoy Men's WeatherSof Golf Glove
The WeatherSof Golf Glove from FootJoy comes with a Cabretta leather thumb and palm section. The performance leather helps to add stability, comfort as well as grip in the most important areas of the glove. The WeatherSof is as breathable as you would expect any great golf glove to be, and this is helped on by the PowerNet mesh which spans across the knuckles. If you're looking to get more than one pair, you'll be pleased to hear this glove is also available in packs of two.
TaylorMade Men's Tour Preferred Golf Glove
If you watch professional golf, this glove might look familiar. It's the glove worn by many TaylorMade tour players. Made from Cabretta leather, this glove provides excellent grip, with wrist lining that provides added stability. It's excellent for breathability and has a moisture-wicking sweatband to help your hands stay dry. Overall, this is a great quality golf glove and if it's good enough for the tour pros it's good enough for our list.
Titleist Men's Perma Soft Golf Glove
Here's a very good glove from no other than Titleist. It's a comfortable fitting glove, made from Cabretta leather. There's a CoolMax panel which spans across the knuckles to provide additional support as well as additional breathability. As well as being breathable its moisture resistant, great for those of you playing in unpredictable climates. This isn't the cheapest glove you'll get your hands on, but remember you're getting a good glove from one of golfs premium brands.
Ping Sport Golf Glove
If you know your golf brands it won't surprise you to see a glove from Ping making the list. In terms of materials, this glove is made from premium Cabretta leather, which is used on the palm of the glove. You get Lycra which is placed over your knuckles for comfort as well as breathability. This is a very well ventilated glove, with slits between each finger and small air holes dotted around the glove. It's very reasonably priced considering it's made by of golfs biggest brands.
Buying a Golf Glove
If you're looking to buy a golf glove, there's a few things you should know before making your purchase. You'll need to know what you should look for in a glove, which hand to wear it on as well as how it should fit you. We address all of these points in the next section of the article.
Which Hand Should You Wear the Glove on?
This is a common question that lots of people ask. It should be worn on your non-dominant hand, which should be the hand that sits at the top of your club shaft. If you want more information on which hand to wear a glove on, we've got an article on it that you can read here.
How Should a Golf Glove Fit?
Using the Ping Sport Golf Glove featured in our round-up we've created a diagram below to give visual guidance on how a golf glove should fit.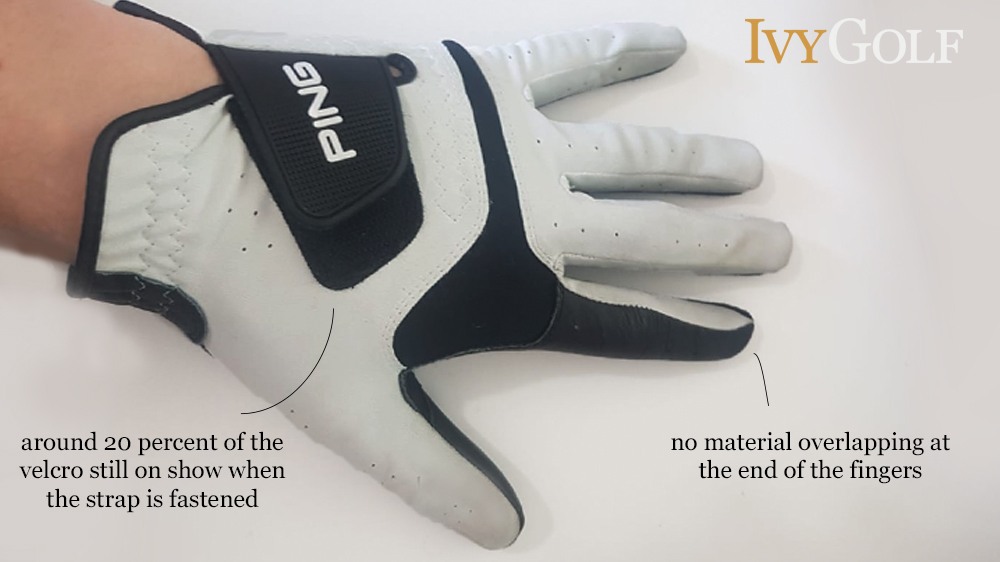 Click image to expand.
Our view on golf gloves is that they should be tight enough to feel like an extra layer of skin. Without a skin-tight grip, there's potential your club could slip during your swing. It's likely that you'll need to move down a size compared to regular gloves in order to achieve a good tight fit.
What are the Benefits of Using a Golf Glove?
Two of the main benefits of using a golf glove include added grip and extra stability for your swings. This can have a direct impact on your game and potentially improve it. Studies have shown that driving performance can be improved when using a golf glove. For such an inexpensive investment, we feel the potential of improving your game makes it worth testing one out.
When Should You Wear a Golf Glove?
As we mentioned earlier, wearing a golf glove is down to personal preference. As is selecting the best time to use one. As a general rule of thumb, you should wear a golf glove for shots that require a larger swing with more grip and stability needed.
When you're putting, we'd recommend taking off the glove. You'll want to get as much of a feel for the putter grip as you can. Having your skin against the grip rather than a glove should help you achieve this, and hopefully improve your accuracy. After all, with a putter you're not taking full-sized swings so won't require the extra grip from your glove.
What Makes a Good Golf Glove?
If you're new to golf or haven't used a glove before, it helps to know what you should be looking for in a golf glove. Lets take a look at a few characteristics that high-quality golf gloves posses.
Comfort
Ultimately you need to feel comfortable when wearing your golf glove. A Premium material definitely helps add comfort, such as Cabretta leather, which you'll notice features in many of the golf gloves in our round-up.
Durability
Again, this is down to the use of materials and you should look for high-quality ones, such as leather or synthetics. A golf glove won't last you forever, but if you choose one that's made from poor quality materials it will wear out much sooner.
Grip
As well as being comfortable, you need to feel that your golf glove provides additional grip. This will help you to have more confidence in your swing and hopefully improve your distances.
Breathability and Sweaty Hands
If you're looking for a golf glove for sweaty hands it needs to have good ventilation in order to prevent your hands from becoming damp inside your glove. Look for a glove with plenty of perforations visible as they help massively with breathability.
Weather Proof
This really depends on your climate. If you're blessed enough to play your golf somewhere the sun always shines, you'll just need good breathability. If you play somewhere like the United Kingdom with varying seasonal conditions we'd recommend finding something rain friendly.
Conclusion
Golf gloves are excellent tools for improving your grip and stability during your swing. You need to be sure that you know what you're looking for before buying one, but if you follow the steps in our guide you should end up with a great quality golf glove.