When you find yourself on the fairway with a lot of distance to cover, a fairway wood is likely to be your go-to club. Once actually made from wood, fairway woods now have complex constructions and are more likely to be made from titanium or carbon fiber. With added club complexity comes inevitable confusion, especially when it comes to buying one. We've rounded up some of the best fairway woods available, and give some guidance on their makeup and best use.
Here's a list of the 5 best fairway woods available to date.
TaylorMade Golf M6 Fairway Wood
If you're not new to golf, you probably aren't surprised to find the M6 Fairway Wood from TaylorMade on our list. This beautiful club has an impressive carbon fiber design, making it a real eye-catcher. Equipped with Twist Face technology, the club faces curve aims to address mishits and correct them.
The club has a carbon crown to ensure it creates great distances, and the Advances Speed Pocket helps to ensure your poor strikes are more forgiving. This is a top of the range wood from TaylorMade and one that we'd highly recommend using if your budget allows for it.
Callaway Men's Big Bertha Alpha 815 Fairway Wood
If you're looking for versatility, this fairway wood certainly delivers. You're able to adjust weights to manipulate the spin, forgiveness, and launch to achieve your desired ball flight. The Hyper Speed Face Cup helps you achieve excellent distance through added ball speed, even through your mishits.
You can get the club in 14, 16 and 18 degrees of loft. The compact head looks as slick as it plays, and if you're looking to manipulate the launch of the ball, we'd highly recommend trying it out for size.
Cobra Men's KING F6 Fairway Wood
Next up we've got the Cobra KING F6 Wood. This is a highly adjustable club that allows you to switch between a front and back CG. With the front CG offering a more penetrative ball flight that goes further after landing. The rear CG allows for a higher flight but a more forgiving one.
You can also adjust the loft of the club, which is great for customizing the club for your needs on a course by course basis. The surrounding of the face is designed with optimal thickness in order to help increase ball speed. Overall this is a very good fairway wood, if you're looking for something highly customizable and adjustable, then this is the perfect club to have in your arsenal.
TaylorMade M4 Fairway Wood
This club is excellent for those of you looking for a wood that gives great distance as well as forgiveness. High launch and a reduction in spin is thanks to the use of a carbon crown. This helps you get a lower center of gravity (CG) and saves 8 grams when compared to a steel crown.
The fluted hosel means you get a great feel when striking the ball. The strong steel face insert helps to deliver high ball speeds, which is partly why this club is great for distance. Overall is an excellent club and nothing less than you'd expect from a brand of TaylorMade's stature.
Cleveland Golf Men's 588 Fairway Wood
One of the longest fairway woods Cleveland has ever made is designed to give you power as well as forgiveness. This is thanks to the huge sweet spot combined with variable face thickness. It's not just great for sweet spot strikes, but even when you're off-center you'll find you still get great results.
The CG is optimized and combined with a rear sole plug and there's added weight lower down the clubhead. The Premium Matrix OZIK 6Q3 shaft help give you a mid-high launch, which combined with the CG placement helps deliver high clubhead speeds and great launch.
A Guide to Fairway Woods

A fairway wood is likely to be a club you consider using if you find yourself on a par 5, or even a long par 4. They're efficient for shots taken from the floor, that still require a lot of distance. Lets take a look at some of the key characteristics of fairway woods.
Distance
This is probably the most prominent characteristic, and perhaps the main reason people opt to use a fairway wood. Fairway woods bridge the gap between your driver and low irons or hybrids. Having a club in your bag that allows you to hit over 200 yards from the floor can be a big advantage. This is especially true for those longer holes where you're trying to hit the green in regulation.
Loft
As we're sure you know, the loft of your club allows the ball to achieve the desired trajectory and distance. Fairway woods have more loft than drivers with 3-woods typically ranging between a loft of 14 to 16 degrees. With more loft your fairway wood has, the higher the number will be, with a 5 wood having more loft than a 3 wood and so on.
Differences Between Fairway Woods and Hybrids
Often with new players there's confusion between fairway woods and hybrids. Both are similar in the sense that they're more forgiving than an iron, but they do different jobs.
Using a hybrid is recommended for those of you who don't get on well with low irons. They're designed to supplement the distance of an iron while providing a more forgiving club face. While hybrids are closer to irons, fairway woods belong to the same family as drivers.
Fairway woods are intended for driving shots from the fairway but can also work well off the tee. That said, hybrids are also a capable club to use off the tee due to their forgiving nature, but don't expect to hit them as far as your woods.
Differences Between a Teed Wood Shot a Fairway Shot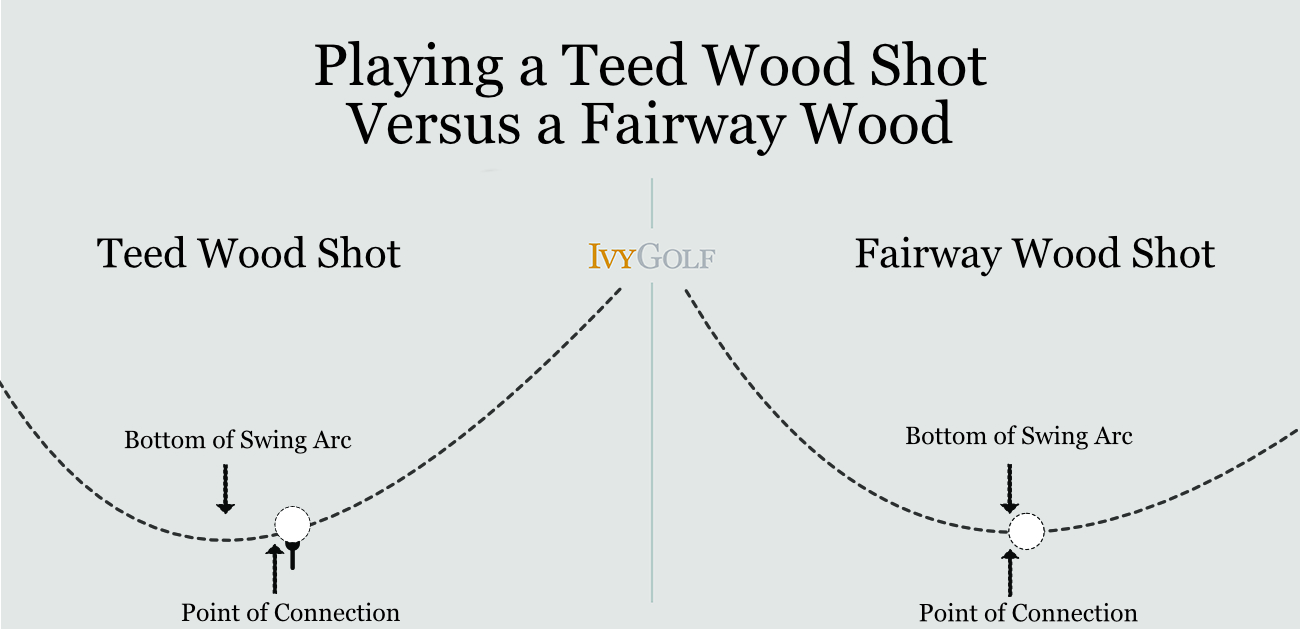 When to Use a Fairway Wood
If you feel like you've lost confidence off the tee with a driver, a 3 wood might be a slightly more sensible option. If you land on grass and find that you have a fluffy lie that might get in the way of your irons, a fairway wood is also a good option. If you're skilled enough to play the shot, a fairway wood is also great in helping you reach greens in two shots on par fives. The fact they have less loft than irons and hybrids also make them a great choice for playing into the wind.
When not to Use a Fairway Wood
Plenty of people will pull a 3 wood out of the bag when they're roughly 200 yards from the pin. It's really important you manage your game efficiently and assess the hazards around the green. On more tricky holes you'll be better off splitting your shots up and laying up. Hitting a 200 yard wonder shot is great when it works out, but if you end up in water or with a lost ball you'll kick yourself.
Conclusion
If you're looking for a club that will help you get great distances off the floor, fairway woods are a good investment. Understanding the right time to use one is key to their effective use, but when used well they can be a great addition to your bag.